Company Overview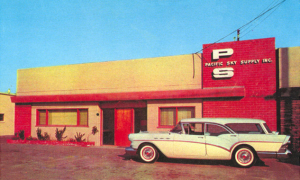 Pacific Sky Supply, Inc. has been a part of the aerospace community in Southern California for six decades. In aviation, time and premium quality are what matter. We continue to deliver on both counts, as our customers can attest. We're a source you can count on, day in and day out.
We are the largest independent manufacturer of replacement parts for the Rolls Royce T56 and 501D flight engines, the Rolls Royce 501K industrial and marine engines, and the Hamilton Sundstrand 54H60 series propellers. These platforms support multiple end-uses:
The military fixed wing aircraft include the C130 Hercules, P3 Orion, C2 Greyhound and E2C Hawkeye.
The commercial fixed wing aircraft include the L100 Hercules, L382 Hercules, L188 Electra and Convair CV580.
The industrial and marine applications include powering oil platforms, pipeline operations, buildings and marine craft.
We also repair a population of these same replacement parts, to provide a choice for the customer, when their specifications and cost dictate to do so.
Our customer base is worldwide. A large majority of our parts are under military contract with the Defense Logistic Agency (DLA) for distribution to U.S. military services and foreign military services, i.e. Air Force, Navy and Coast Guard. We also sell direct to commercial and foreign operators, and repair facilities with both depot level and full overhaul capabilities. We are not an OEM supplier. Our customers are both big and small—we are grateful for all amounts of business.
Within our 50,000 square-foot facility, are experts in aerospace manufacturing engineering and quality assurance. Our facility includes a technical library containing OEM drawings and specifications, OEM parts catalogs and overhaul manuals, military part breakdowns and repair manuals, and OEM service bulletins.
We are well equipped to manufacture and supply replacement parts utilizing proven OEM designs with our proven fixed manufacturing processes. We are confident that the parts and service you get from Pacific Sky Supply, Inc. will perform exactly as you want them to—keeping the end-user operating.